Update: 25 April 2023

We are now finalising the list of participants for the April – June term.
If you are interested in junior coaching, please join the waiting list. We'll be in touch with those on the list, as soon as we are able to offer more sessions. We offer priority to enrolled athletes and then those on the waiting list.
To join the waiting list, please click on the button below to fill in a form.
Thank you!
Children and young people aged 11-17 years old can now join sessions dedicated to coaching them!
These sessions are fun and inclusive, where all abilities are welcome, from complete beginners to those who wish to build on their volleyball skills.
Come along and have fun, make friends and develop your skills in volleyball!
Location
Our Wednesday evening junior sessions are being held at Meadow Park School / Academy (formerly known as Whitley Academy) Abbey Road, Coventry, CV3 4BD. Please see the location details here.
Timings
The session times are on Wednesday evenings:
Beginners group 19:15 – 20:15
Intermediate group

20:15 – 21:15

Please note the Advanced junior sessions are only available by invitation only. You should still join the waiting list if you're interested in these sessions.
The dates for this term are:
Wednesday 19 April 2023
Wednesday 26 April 2023
Wednesday 03 May 2023
Wednesday 10 May 2023
Wednesday 17 May 2023
Wednesday 24 May 2023
Wednesday 31 May 2023 – HALF TERM, NO SESSION
Wednesday 07 June 2023
Wednesday 14 June 2023
Wednesday 21 June 2023
Wednesday 28 June 2023
Wednesday 05 July 2023
Wednesday 12 July 202
Progression path for juniors
Beginners → Intermediates → Advanced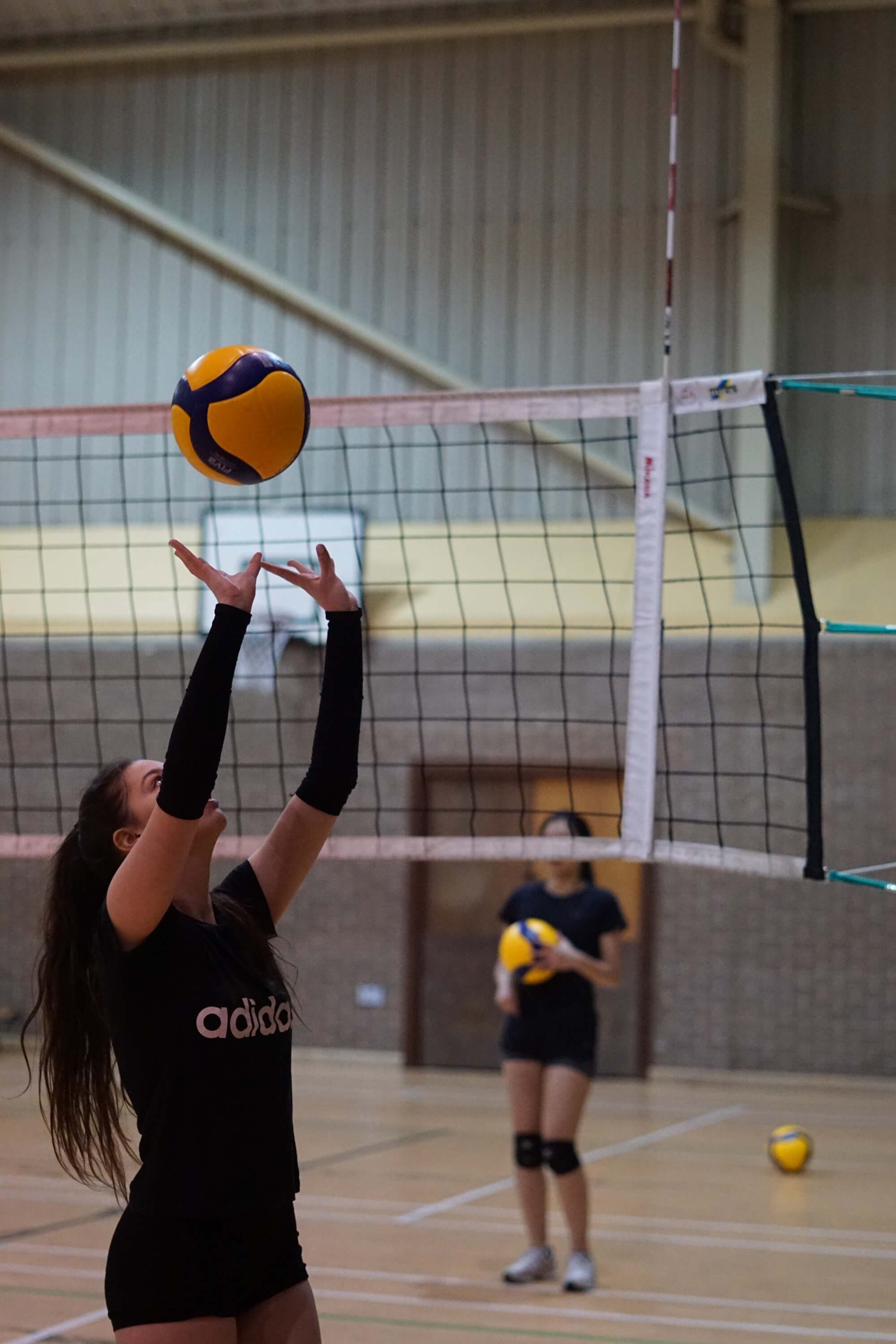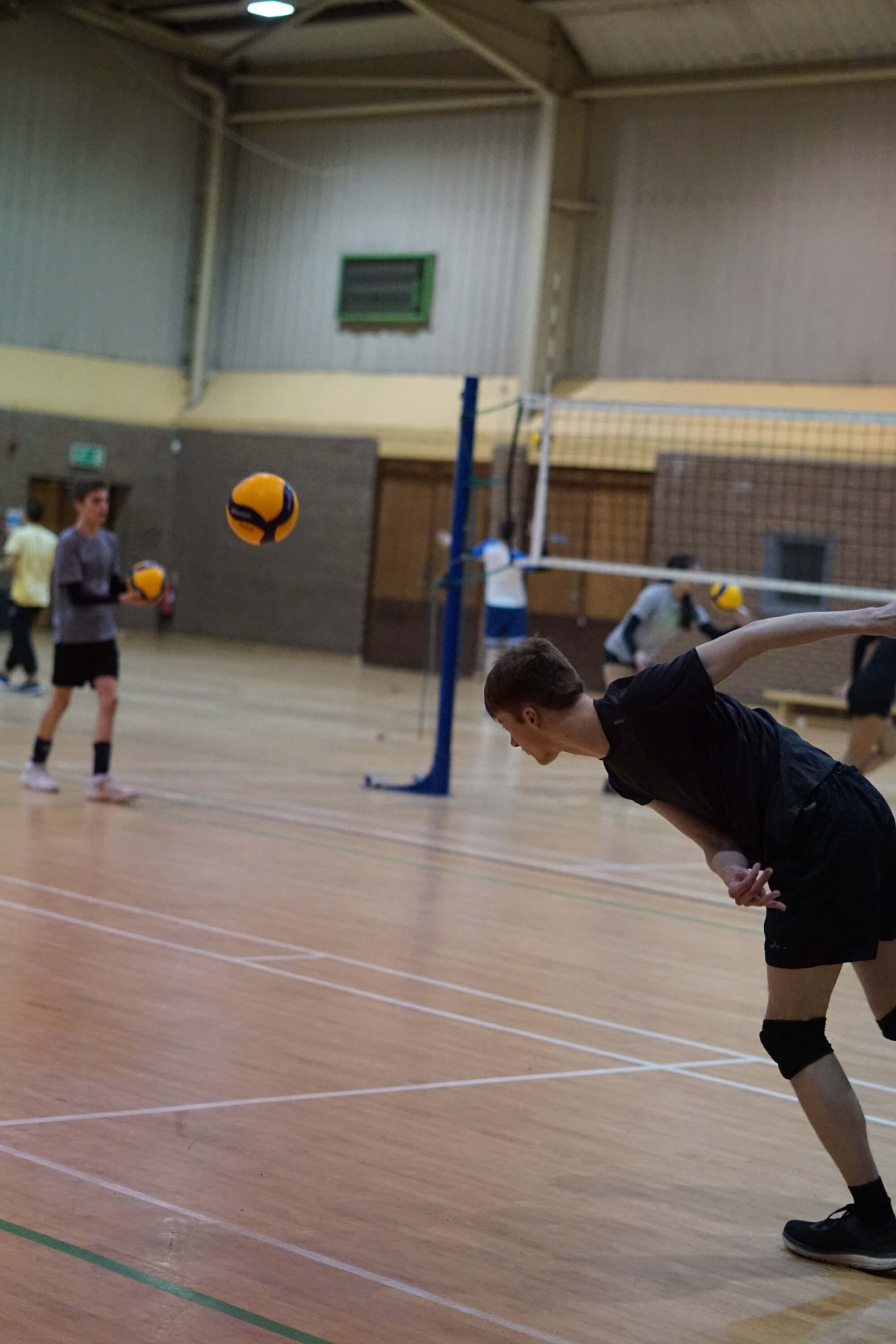 How to start
→ You can only book these sessions in blocks and we're currently unable to offer taster sessions.

👉 When booking please book in parent/carer name. Include in the "Additional Information" section the name and age of the junior player.

Our priority is to keep everyone safe – you can check our COVID-19 Safety Plan
What to pack and what to wear:
Full water bottle which should be labelled or highly distinguishable in order to avoid any confusion
Sweat/fitness towel, foam roller, resistance band, joint supports or any other equipment you need for warm up/cool down or during activities.
Wear a normal PE kit (T-shirt & shorts or leggings) plus ideally a pair of kneepads. These need to be fabric kneepads, so they don't mark the floors (so not skateboard hard plastic style ones). Lots of the kids have these:
💪 Under 18 and would like to train at a competitive level?
Our National Volleyball League (NVL) teams accept juniors who are experienced in competitive volleyball and are able to train at a higher level. Read all about our NVL teams training.
Junior FAQs
Is prior experience necessary? No! Many of our players hadn't played volleyball before coming to our sessions. We cater for ages 11 – 17 and abilities ranging from complete beginners through to players training with National League teams. The sessions will be tailored to the differing abilities with different drills tailored to this.
Are the sessions coached? Yes, we will have coaches on hand who will set up engaging routines and provide feedback in order for you to progress your game.
Are we going to play games? There will be mainly coached drills in order to learn skills/footwork and develop technique but there will definitely be some match play.
Do I need any special equipment? Any sports kit is suitable to wear, and the players just need indoor trainers. We do suggest that players purchase a set of kneepads as it's helpful for when we do defence drills (they need to be fabric rather than hard skateboarding style), but these are not essential. Make sure you bring your own distinctive or marked full water bottle as during the Covid restrictions water fountains at venues may be out of service.
Can I sign up mid-term? Yes! The course is run in a 12 week block for registration/organisation but each session stands alone on different skills. If you join mid-term you will only pay for the remaining sessions in the block. This being said, our sessions are quite popular, and it's unlikely there will be space to join at a later time. We'd recommend joining the waiting list to make sure you get the information as early as possible.
Can parents/carers stay and watch? Yes – that's no problem! Please check in with the coach on arrival and they will show you where you can watch from (most of our venues have a viewing gallery). We ask that you do not take photos or videos of the sessions without the prior approval of the coach for safeguarding reasons.
How do I book? Go to Book A Session to book on to the Junior Sessions and make payment which will all be taken online. If you have any questions before booking use the Contact Us function on this site or get in touch via our facebook or instagram pages.