The Club was awarded its Clubmark accreditation in May 2018 by Sport England under the Club Matters programme. Clubmark is Sport England's national accreditation scheme for high-quality community sports clubs and stands for higher standards of welfare, equity, coaching and management.
It shows that we, as a Club, provide the right environment which ensures the welfare of members and encourages everyone to enjoy sport and stay involved throughout their lives.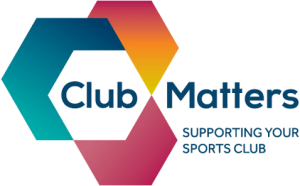 The Clubmark accolade came after continued efforts from volunteers involved with the club – it's now great news for all our members who will all benefit.
Some of the requirements the Club had to meet are:
the Club is affiliated to Volleyball England
the Club has a management committee – click Governance for details of those currently on the committee and a summary of their roles.
The Club has a handbook (download at the end of this page) which includes our clear and transparent pricing policy, mission statement, constitution, equity statement, codes of conduct and the roles of the committee.
The Club's mission statement is: Riga Volleyball Club aims to provide opportunities for players of all ages and abilities to reach their volleyball potential.
We have members who have been on the Volleyball England approved "A Club for All" and "Equity in your coaching" workshops.
The Club regularly communicates with its members and supporters – via this Site! We also have a circulation list with all Club members on it so that we can communicate to our members important information, such as AGM details. The Club also has a dedicated facebook page (Riga Volleyball) or follow us on twitter (@rigavolleyball) or Instagram (Riga Volleyball) – each of these are available for all members to access and communicate with each other.
The Club provides a regular and structured training programme for its members.
The Club has a number of qualified coaches (see the FAQs page) which gives a good ratio of players to coach at all sessions.
The Club also has a number of qualified referees (see the FAQs page).
All of our training facilities have first aid equipment and emergency procedures and these are available at every training session and match. The Club takes the health and safety of its members seriously and always completes a risk assessment on any new training or match venues. Further details can be obtained from any member of the Committee on request and the current risk assessments can be downloaded at the end of this page.
Similarly we consider the well being of our juniors to be essential. All members working with our junior section are DBS checked and we have a Club Welfare Officer to whom any concerns can be raised. Further details are set out on our Club Welfare Pages.
Finally, there's an opportunity for any of you, as members, to give feedback on your satisfaction with YOUR club! Simply speak to any member of the Committee or use our contact form or use the Facebook page, Instagram or contact us on twitter (@rigavolleyball). We'd love to hear from you! It is YOUR Club.
You can view the Club risk assessments on the Club Welfare Pages and you can download a copy of the Club welcome handbook on the Governance pages.